What is the GHS?
The Globally Harmonized System of Classification and Labelling (GHS) is the international standard used for defining, classifying, and labeling the various hazards of chemical products we use and trade. The GHS provides consistent information from manufacturer to end-user for all known chemicals and can be adapted to cover any hazardous material that may arise at work. Core elements off the GHS include standardized testing criteria, universal warning programs, and harmonized data sheets
Why Was the GHS Created and Who Uses It?
Before the GHS, different countries had different regulations on classifying hazardous material which resulted in multiple standards, classifications, and labels for the same hazardous material. The United Nations created GHS to ease the process of selling and transporting hazardous materials internationally. Additionally, the simple and standardized GHS system provides the opportunity for cost reduction and increased compliance.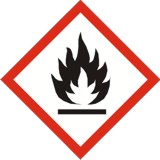 GHS first started development at the Earth Summit and by 2017, it has been enacted in most major countries around the world. In March of 2012, the United States Occupational Safety and Health Administration (OSHA) announced that the Hazard Communication Standard (HCS) would be updated to the GHS system.
Although the GHS system is widely used, it is important to note that it is a system- not a law or required regulation. Since the United Nations leaves it up to each county to integrate GHS into their regulatory system, it still common to have differences in standards and regulations between countries.
What is a GHS Safety Data Sheet?
A GHS Safety Data Sheet (SDS) provides detailed information about a particular hazardous material. The GHS SDS format makes it easy for users to quickly identify information and share with proper personnel accordingly. GHS Safety Data Sheet's are broken up into sixteen sections with defined headers giving the read a clear idea of what information is contained in each section.
Every single hazardous chemical is required to have a GHS SDS in REACH-compliant format. Majority of non-hazardous materials are not required to have a GHS Safety Data Sheet, but in some cases they do. Additionally, every single section on the GHS SDS must be filled in. If there is no information, a statement must specify so.
Click here to check out the GHS Safety Data Sheet for EnviroTech Services, Inc.'s road stabilization and dust control product X-Hesion Pro® or take a look at this overview of the sixteen sections of a GHS Safety Data Sheet provided by the GHS Conversion Services:
Section 1: Identification
Includes all chemical product identifiers, supplier, manufacturer or distributor name and detailed contact information, recommended use, and restrictions on use, and emergency contact phone number.
Section 2: Hazard Identification
Includes exact classification of the chemical substance, all hazards, and required GHS label elements including precautionary statements and pictograms.
Section 3: Composition / Ingredients
Includes all information on chemical ingredients and information on complex substances. If applicable, the Confidential Business Information rules take priority, and confidential information about the chemical product may be omitted.
Section 4: First-Aid Measures
Includes advice on first-aid measures and symptoms and effects of exposure to chemical (acute and delayed) and indication of need for immediate medical attention.
Section 5: Fire-Fighting Measures
Includes the requirements for extinguishing a fire caused by the chemical substance and specific hazards arising from chemical fire.
Section 6: Accidental Release Measures
Includes the emergency procedures needed to respond to spills or leaks of chemical product, environmental precautions, and proper methods of containment and cleanup.
Section 7: Handling / Storage
Includes guidelines for safe handling practices of chemical substance and safe storage, including incompatibilities.
Section 8: Exposure Controls / Personal Protection
Includes "occupational exposure limits" of workplace, specific protection and prevention measures, and how to minimize exposure and risk.
Section 9: Physical and Chemical Properties
Provides details on each property of the chemical material.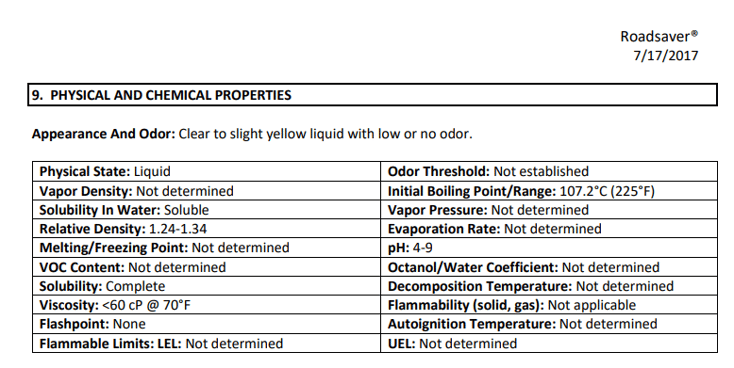 Example of GHS SDS Section 9 from product RoadSaver®
Section 10: Stability and Reactivity
Provides all details in regards to chemical stability and possibility of hazardous reactions.
Section 11: Toxicological Information
Primary used by medical, and health and safety professionals, this section includes all toxicological health effects and all available data to support the information.
Section 12: Ecological Information
Includes the evaluation of the environmental impact of the chemical substance on the environment, if released.
Section 13: Disposal Considerations
Provides information on proper disposal of chemical substance including specific precautions.
Section 14: Transport Information
Includes all classification information for the transporting or shipment of the chemical product.
Section 15: Regulatory Information
Includes any additional regulatory information not found elsewhere in the SDS.
Section 16: Other Information
Includes the date of preparation or last revision, a key to all abbreviations or acronyms, and sources for data used to gather information for the SDS.
Why is a GHS Safety Data Sheet Important?
The Safety Data Sheet (SDS) is one of the most important aspects of the GHS system and global chemical safety because they detailed information on a particular substance like the composition, the supplier, and how to handle it safely.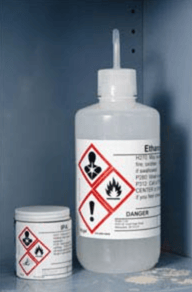 Acco
rding to the Health and Safety at Work etc. Act of 1974 and the Control of Substances Hazardous to Health (COSH) Regulations of 2002, it is the employer's duty to ensure employees have the proper information, instruction, and training regarding the risks to their health that are present within the workplace. Additionally, they must be informed of precautions they will take to protect their coworkers as well.
In order to protect yourself and your employees, as well as comply with regulations, a risk assessment of the workplace is required before handling hazardous chemicals. The critical information required to conduct a chemical risk assessment can be found on GHS Safety Data Sheets. GHS Safety Data Sheets are not risk assessments themselves, they enable the risk assessment to be carried out.
Overall, the GHS is an international system working to simply the process of selling and transporting hazardous materials internationally and ensure the safety of everyone involved in the process. It doesn't matter if you are a supplier or the end-user, it is important to regularly review all of the GHS Safety Data Sheets of the materials you come in contact with. It is also heavily encouraged to contact the manufacturer about additional product questions.
Are you struggling to extract information from your safety data sheets? Do you want to know more about your road and surface solution products? Contact an EnviroTech Services, Inc. expert at 800-369-3878 or explore our website at www.envirotechservices.com to learn more!
Similar Reads:
Works Cited
Allen, Dale. "What Are GHS Safety Data Sheets?" Iacs, 28 June 2019, www.thechemicalsafetyassociation.org/post/what-are-ghs-safety-data-sheets. Accessed 17 Mar. 2021.
"Globally Harmonized System of Classification and Labelling of Chemicals." Wikipedia, 11 Dec. 2020, en.wikipedia.org/wiki/Globally_Harmonized_System_of_Classification_and_Labelling_of_Chemicals#:~:text=The%20Globally%20Harmonized%20System%20of%20Classification%20and%20Labelling. Accessed 17 Mar. 2021.