Sometimes product deliveries do not go as planned…
The product may have been delivered to the wrong location, perhaps the wrong amount of product was delivered, or even the wrong product itself was delivered! Cut out the hassle of delivery when you order with EnviroTech Services, Inc.
EnviroTech Services, Inc. is proud to provide quick and convenient delivery of superior road surface solutions. To ensure complete customer satisfaction, EnviroTech Services, Inc. utilizes local Denver service, Sitefotos, for photo-taking, project-tagging, customer communication, and more! By simply snapping a photo of the before and after conditions of a project, communication with the customer is increased with the touch of a button.Sitefotos is a simple way for EnviroTech Services, Inc. to provide an additional service to our customer at no additional cost. This product can be used for a wide range of services and businesses, but is commonly used in snow and landscape services. Most of the time, Sitefotos is a requirement set by the client in their contract, but EnviroTech Services, Inc. is happy to provide Sitefoto's services upon request.
What is Sitefotos and how does it work? Sitefotos is used in three simple steps:
Step 1: Snap a Photo
Take a photo of the delivered product. Sitefotos allows for unlimited users and photos which are immediately uploaded to the cloud. All photos are GPS tagged and time-stamped, so it easy to know exactly when and where an order was delivered. Check out the picture of a successful customer delivery by an EnviroTech Service, Inc. employee uses Sitefotos:

Step 2: Tag Photo to Property
Make sure all customer properties are in a single account, so it is easy for them to view multiple properties as needed. This step uses GPS coordinates to 'tag' the photo to the property and provides a live map view of the delivery's current progress, which can be seen in the photo below.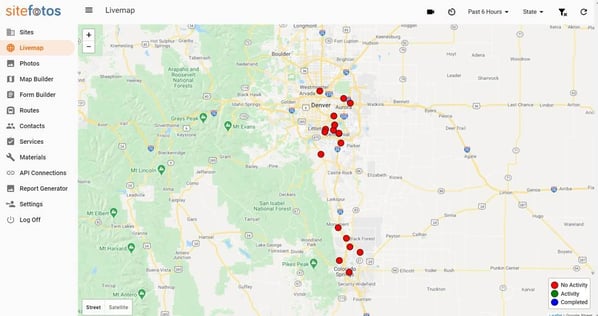 Be sure to add the type of equipment being used and provide a map of the property specifying site conditions or requirements like site triggers, snow pile locations, obstacles, etc. Forms and time sheets can also be validated in the tagging step.
Step 3: Communicate with Customer
Create a free account for customers and share any quantity of photos needed. Photos can be submitted in a variety of resolutions, so every picture is high quality! Sitefotos keeps a permanent archives of photos and data which makes it is easier to avoid miscommunication and keep customers happy.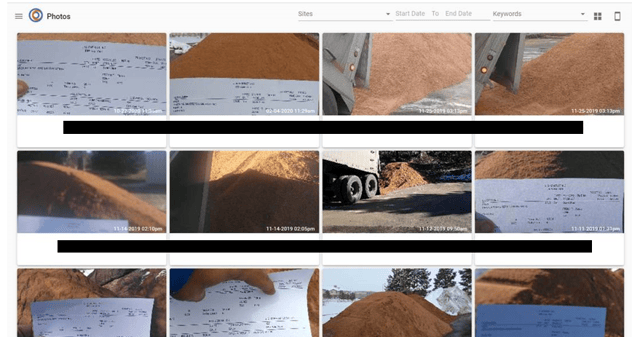 Sitefotos can also be used to document workplace injuries or possible workplace hazards. Additionally, a new feature has been added to assist you and your customer develop a free budget plan. Overall, Sitefotos is a useful tool to increase communication, improve communication, and ease the delivery process.
Sitefotos is an easy way for EnviroTech Services, Inc. to communicate with customers that the right product has been delivered in the right amount at the right location. If you are currently an EnviroTech Services, Inc. customer and want to learn if Sitefotos is right for you, please contact us here.
You May Also Enjoy: