The Arizona Department of Transportation (DOT) implemented an innovative dust detection and warning system along ten miles of Interstate 10 between Phoenix and Tucson. Their dust detection and warning system consists of a weather radar system, variable speed limit signs, closed-circuit cameras, and overhead message boards which work together to tell drivers to slow down when visibility is reduced due to windblown dust.
The Arizona DOT completed a 30-day test period and was implemented in June of 2020, the beginning of monsoon season which is the peak time for severe storms that create hazardous driving conditions.
"Drivers will first notice signs saying "Caution: Variable Speed Limit Corridor." Soon after, a series of programmable speed limit signs every 1,000 feet can change the legal speed limit from 75 mph to as low as 35 mph. Additional variable speed limit signs are placed every 2 miles.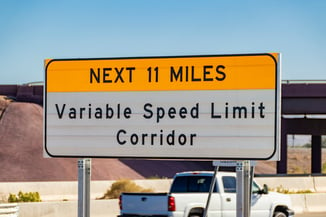 Overhead electronic message boards in and near the corridor will alert drivers to blowing dust and warn them to slow down. Speed feedback signs will inform drivers of their actual speeds.
Thirteen visibility sensors mounted on posts along the freeway use light beams to determine the density of dust particles in the air. Once visibility drops to certain levels, the system activates overhead message boards and the variable speed limit signs.
The sensors are complemented by a weather radar on a 20-foot tower at I-10 and State Route 87. It can detect storms more than 40 miles away, providing additional warning of incoming storms to ADOT and forecasters at the National Weather Service."
- Official Website for Arizona Department of Transportation
Arizona DOT officials monitor road conditions, as well as the speed and flow of traffic, in real time from the ADOT Traffic Operation Center in Phoenix. This program, valued at roughly $6.5 million dollars, was funded through the federal FASTLINE grant. Depending on the effectiveness of the dust detection and warning system, the Arizona DOT may implement similar technology across the state.
Despite having an advanced dust detection and warning system, drivers still need to take proper precautions when they are on the road in hazardous conditions.
EnviroTech Services, Inc. is proud to be a leader in providing environmentally conscious road surface solutions. As an industry leader, it is important to go beyond providing sustainable products, but to provide important information on industry updates, product developments, and tips on how to incorporate sustainable practices into everyday life.
To learn how EnviroTech Services, Inc. can help you, visit our website or speak with a representative at 800-369-3878.
Similar Reads: