Full chloride products are the most prominent treatment for dust control and road stabilization in North America, but they are not always environmentally friendly or effective.
Salt and chloride-based treatments can cause harm to roadside vegetation and can wash off causing chloride to leech into shallow drinking water and nearby waterways, such as rivers and ponds. "A study done by Colorado State University has documented elevated salt concentrations between 9-foot and 320-feet from roads." (Why Use...). Damaged trees can be seen after only two years of using chloride-based treatments. Traditional solutions require high application rates which increase the amount of chlorides in the environment.
EnviroTech Services, Inc. is founded on the principle to protect the environment beyond industry standards and continuously raise the bar in our industry in everything we do. In order to achieve this, we develop innovative solutions to tackle issues in various sectors. In order to lower the environmental impact in dust control and road stabilization processes, we have developed a line of products that are high performing without sacrificing the integrity of the environment and community.
EnviroTech Services, Inc. product, durablend®, achieves the same performance of traditional magnesium chloride treatments with only half the amount of product per application. This enhanced polymer blend helps bond to the aggregate and significantly lowers migration of chlorides from the road which improves friction in moisture situations providing safe driving surfaces. Durablend is applied with a standard spray system but covers twice as much per truck load than full chloride products which reduces the overall amount of chlorides put into the environment. Continual use reduces road base loss and improves efficiency of the fleet which in turn reduces man hours and saves you time and money.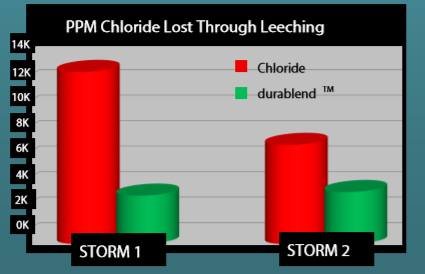 EnviroTech Services, Inc. product, X-Hesion Pro ®, is another high-power sustainable dust control and soil stabilization treatment. This ultra-low chloride-based formula utilizing derived, complex polymers functions to keep several different road bases stable and dust free. This BioPreferred certified product is more effective at drawing / retaining moisture and is more weather resistant to ensure minimal chloride leeching. X-Hesion Pro has a fine particle-aggregate matrix that reduces dust to a PM10 standard resulting in road surfaces that are compact, water resistant, and durable.
These are just two of the wide variety of innovative and sustainable treatments EnviroTech Services has to offer. We know it can be overwhelming to decide which treatment is best for you and we are here to help. With our multi-step consultative approach, we develop a program that is unique to your needs and requirements. We are only satisfied once we find a program that not only reduces your costs but improves the performance and quality of your dust control and road surfaces. To create a customized plan to best suits your needs, we start with four basic steps:
Define your goals
Gather baseline dust level data
Assemble preliminary program based on collected data
Complete Total Cost of Ownership analysis
Utilizing this consultative approach, we evaluate your current practices in order to form a plan that will reduce your overall costs and increase your operations efficiency while exceeding environmental regulations.
At EnviroTech Services, Inc. we are proud to be "People Helping People Improve the Environment".
To learn more about how we can serve you, visit our website or request a FREE evaluation.
Work Cited
"Why Use Mag-Chloride for Dust Control If You Care About the Environment?" Global Stabilization, LLC, 8 Apr. 2017, www.globalstabilization.com/2017/04/07/why-use-mag-chloride-for-dust-control-if-you-care-about-the-environment/.