When the snow stops flying and the roads are slowing down, it is common for anyone working in snow removal to wonder how the shift went as they finish the last run of the day.
"How could have my shift gone better?," you ask yourself as you remember moments that seemed a little off- like how the truck jumped when the plow grabbed the snowpack or how the wing plow did not go down as fast as it did before.
When evaluating a long shift, it is important to think about the condition of your trucks and equipment.
The trucks and equipment used to remove snow and ice off state, city, and county roads are pushed to the limits every snowstorm; RPMs are high, trucks carry overweight loads, tires lose air during the night, wipers work harder than normal, and the trucks hit what feels like every crack and bump on the roadway. The trucks and equipment used to remove snow and ice are pushed to the limit to ensure the traveling public makes it to the store or wherever their destination happens to be.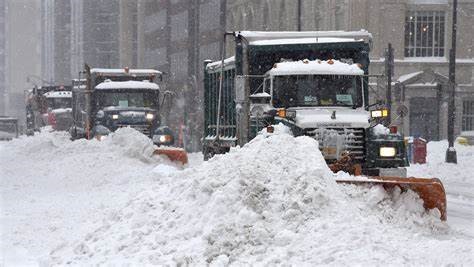 When the trucks are parked and the doors close for the night, it is important to take the time to conduct a thorough maintenance performance evaluation before going out again. Check out a few things to keep in mind when conducting an evaluation:
Wash and Clean
After each snowstorm, snow removal equipment should be washed and cleaned
Inspect for Damage
Inspect your plow for cracks and metal fatigue.

Inspect bearings and pullies for cables and V-box. If they are not sealed, grease them to remove any water inside of the bearings.
Replace Equipment as Needed
Replace the snowplow blades for wear and replace them if worn.

Replace hoses that could have been worn by rubbing on metal or other hoses.

Wiper blades should be replaced if they are not preforming correctly.

Remember to remove snow from the wipers during the storm, because swapping out a wiper motor in the middle of the storm can be hazardous and difficult.
Check the Battery Box




Lift the cover and wash it during normal cleaning of your truck, check for corrosion, clean, and spray some type of battery protectant over the terminals.
Each DOT, City and or County Maintenance Dept. has their own protocol for after a snow event that should be followed accordingly. These are just a few tips to keep in mind when plowing and supervising crews for snow removal. Stay safe and keep the blade between the lines.
Visit the EnviroTech Services, Inc. website or speak with a representative at 800-369-3878 to learn more tips and tricks for evaluating snow removal equipment or improving your deicing and anti-icing program.
Similar Reads: