Every year millions of workers are exposed to one or more chemical in the workplace that poses a physical or health hazard, otherwise known as a hazardous chemical.
To minimize the occurrence and/or severity of employee exposure to hazardous chemicals, employers that have hazardous chemicals in their workplace are required by the Occupational Safety and Health Administration's (OSHA) Hazard Communication Standard (HCS), 29 CFR 1910.1200 to implement a hazard communication program, or HazCom program.
OSHA's HazCom standard is based on the idea that employers have a need and a right to know the hazards and identities of the chemicals they are exposure to in the workplace and that employees need to know what protective measures are available to prevent adverse effects.
The employer is responsible for the implementation of a written HazCom program that successfully communicates the health effects, exposure limits, and presence of known cancer-causing substances through Safety Data Sheets, labels, and formal training programs.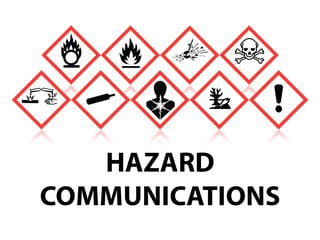 The employer must describe how the written programs meets the requirements of the HCS. HazCom programs must also inform employees about signs and routes of exposure, as well information
on how to safely handle the chemicals, to minimize their employees' dangers of exposure to hazardous chemicals.
Check out this OSHA Fact Sheet: Steps to An Effective Hazard Communication Program for Employers That Use Hazardous Chemicals.
Safety Data Sheets (SDS) are a critical component of HazCom programs. Safety Data Sheets are created by the chemical manufacturer for the end-user, and they describe the physical hazards, health hazards, emergency and first aid procedures for hazardous chemicals. Safety Data Sheets should be readily available to employees in their work area. Every single hazardous chemical used at a worksite is required to have a Safety Data Sheet that is readily available for employees to reference.
In addition to Safety Data Sheets, employers are legally required to conduct formal trainings that inform employees about the chemical hazards in the workplace. Training should be done before the initial assignment and when a new hazardous chemical is introduced. Employers must certify that employees have a high understanding of the information to mitigate risk and protect their employees.
After training employees should be able too...
Identify which hazardous chemicals are in the workplace and the hazard they pose.

How to use labels and safety data sheets to obtain information on the hazards on the chemical and where they are located.

Identify and implement protective measures available in workplace.

Know procedures / who to contact if an issue arises.
Although the responsible of creating and implementing a HazCom program falls on the employer, employees needs to hold themselves accountable to complete the required training, read and understand the SDS, and comply with safety procedure when working with hazardous chemicals.
To review common questions about HazCom, check out this short video:
Employers and employees should regularly review local and state policies, as well as OSHA's website to ensure their HazCom program is compliant. It is critical to maintain compliance with the OSHA's HCS to ensure the wellbeing of employees.
So, is a HazCom program really THAT important? Absolutely.
At EnviroTech Services, Inc. we believe the necessary ingredients of a safe working environment are management commitment, an industry leading safety program, an informed supervisory staff, and an engaged workforce. Check out the EnviroTech Services, Inc. Safety Program to learn more.
This blog is not a comprehensive guide for legal compliance, so check your with supervisor, local and state laws, as well as OSHA to ensure your operation is legally compliant.
Similar Reads: