When winter storms come, it is typically the state's Department of Transportation (DOT) and Public Works Agency's responsibility to ensure roads are snow and ice free. Individuals who help create and implement deicing and anti-icing programs are looking to make strategic decisions that maximize operational efficiency.
To increase efficiency, it is important to avoid expensive and time-consuming obstacles, like vehicle maintenance and replacement. State DOTs and Public Works Agencies are taking proactive measures to minimize issues, like corrosion damage, which can be a large contributor to vehicle damage.
Corrosion is a natural oxidation process that erodes metals due to chemical reactions. Once corrosion is present, it spreads quickly and degrades the quality of metal by forming abrasions, cracks, and holes. State DOTs are working to alleviate corrosion damage by decreasing the amount of product needed to clear roads by implementing brine technology and corrosion inhibitors.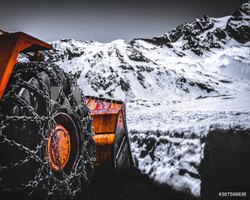 Dan S., Maintenance District Superintendent for the Alaska DOT and Public Facilities, is tasked with the difficult decision to determine what deicing and anti-icing treatment to use in the winter as well as when and where it will be applied. Although most states DOTs use products with a corrosion inhibitor, they can be costly, especially for hard-to-reach regions like Alaska. Dan S. can make brine for 18 cents a gallon, but the price per gallon increased to $2.00-$2.50 when corrosion inhibitor was added.
Due to the expensive nature of deicing and anti-icing treatments with corrosion inhibiting properties, Dan S. felt it was not an option-- until he used AMP® from EnviroTech Services, Inc.
With the help of the experts at EnviroTech Services, Inc., Dan S. was able to obtain AMP, a liquid inhibitor and salt brine enhancer. AMP has a 50% higher melting capacity, which allows roads to be free of ice and snow quicker than using salt brine alone. "People want to drive the speed limit, even in the middle of winter, so this is another tool in our toolbox we can use," Dan S. says about AMP.
Shipping to Alaska by barge was pricey at first, but using AMP ended up lowering Dan's overall costs due to the product's superior performance, low application rates, and reduced corrosion damage.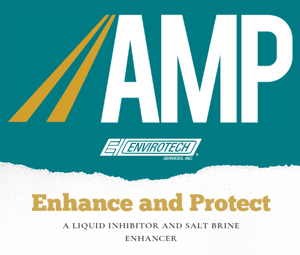 AMP can treat roads both before and during a storm to reduce snow and ice build up. Adding AMP to your salt brine accelerates ice melt, maintains friction, and protects your roads.
EnviroTech Services, Inc. is proud to provide cost-efficient, high performing products that keep roads safe. Learn how we can help you improve your deicing and anti-icing program by visiting our website or speaking with a representative at 800-369-3878.
Similar Reads: