The benefits of adding liquid ballast to tractor tires has been long recognized within in the industry. As mentioned in "The Benefits of Filling Tractor Tires with Ballast", some advantages of adding liquid ballast are increased traction, lower center of gravity, and the ability to counterbalance the weight of front loaders.
But why stop with just adding liquid ballast?
EnviroTech Services, Inc. offers BallastSeal to effectively seal your ballasted tires and further increase the life of tractor tires. BallastSeal can seal the trickiest punctures on rims and beads while keeping the inner liner of the tire soft and pliable. Unlike other ballast products, BallastSeal can be mixed with other liquid tire ballast products.
BallastSeal is designed to be used with Bio-Ballast®, a USDA Certified BioBased product, to ensure this mixture is the most environmentally sensitive solution on the market. There is no agricultural byproduct residue in either BallastSeal or BioBallast, so your operation can stay sustainable without sacrificing efficiency.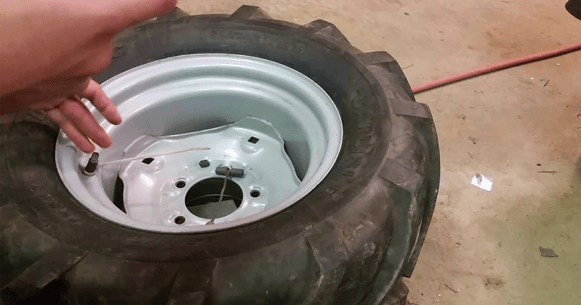 A few key characteristics of BallastSeal include:
Non-Combustible

Non-Corrosive

Non-Flammable

Water soluble

100% Biodegradable

Safe to use around plants and animals
Used in a 30:1 mixture with Bio-Ballast, BallastSeal can seal punctures up to a quarter inch! Additionally, when used with BioBallast, BallastSeal does not freeze or slush down to -300F. BallastSeal prevents the loss of ballast and maintains optimum tire pressure. BallastSeal is a quick and easy clean-up because of its biodegradable quality -- just use soap and water!
Some liquid ballast products thicken when the temperature declines, causing issues with filling and/or removing the ballast from the tires. But not BallastSeal! BallastSeal can be pumped in cooler temperatures without foaming. To ease transportation and storage, BallastSeal comes in five-gallon pails that weigh approximately 10 lbs. per gallon.
Learn more about how EnviroTech Services, Inc. can assist you in your search for eco-conscious ballast products by visiting our website or speaking with a representative at 800-369-3878.