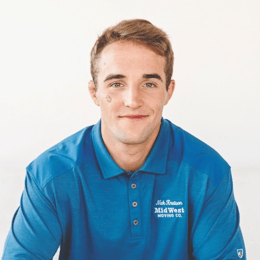 Hi there! My name is Nick Knutson, and I started as an intern here at EnviroTech Services roughly nine months ago. For ESI I have had the pleasure of working with Amber, Peter, Veronica, Tonja, Robert, Mary, and fellow intern Jacob. My position has consisted of various marketing/sales activities, as well as the addition of supply chain work, but I'll get to all that good stuff later. I am originally from a small town in Minnesota, about an hour south of the Twin Cities. Growing up in Minnesota I love all things outdoors, especially being on the water! Fishing, boating, tubing, and jet skiing are some of my favorite activities on the lake. I was also involved in many different sports as a kid, but wrestling was the sport that I became the most passionate about.
After high school I ended up going to North Dakota State University to continue my wrestling career and complete my undergraduate degree. After spending four years and graduating from NDSU, I still had one year left of wrestling eligibility. I knew I wanted to continue my education and finish off my wrestling career, but I also wanted to get out of the tundra of North Dakota. So, I made the decision to come to the University of Northern Colorado (sight unseen) here in Greeley to pursue my MBA degree and finish off my wrestling career.
This brings us to the summer of 2021. At this time, I was working as a manager for a moving company that I had built connections with during my time in Fargo. About two months into the summer, we got a call to help unload two large trucks for a family moving into Greeley from Kansas. That customer just so happened to be EnviroTech's newly hired VP of Operations, Robert Thompson. While helping Mr. Thompson and his family move into their new home we had conversations about school, sports, and both of our new positions. Robert had told me how great of a company ESI is to work for, and that they are always looking to hire new talent. In fact, there was even a Marketing/Economics internship position that was recently made available. Being that at the time I truly had no idea what a "road maintenance" company like EnviroTech consisted of and considering that I had little to no economics experience, I was originally pretty hesitant about the internship and whether or not it would be a good fit for me. However, after having conversations with Robert, and my head wrestling coach (who just so happens to be good friends with multiple ESI team members), my opinion quickly changed. I decided to apply to the Marketing/Economics position and was one of many candidates that was selected into the interview process. Throughout the interview process I was able to highlight previous skills that I've developed in sales and marketing. Due to my experience and interests, ESI developed an entirely new internship that I was happy to accept in Sales/Marketing.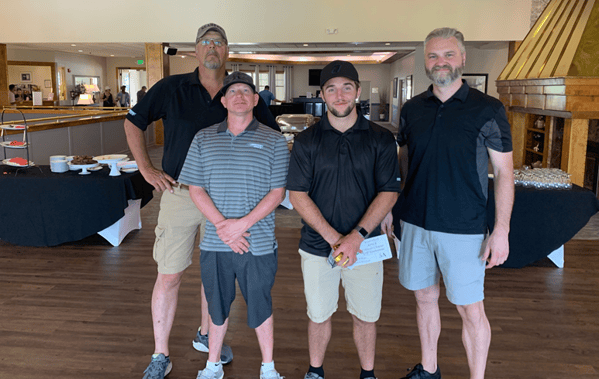 Now roughly nine months into my internship with ESI I could not be more thankful that I accepted the sales and marketing position. Whether I am in the corporate office in Greeley or working remotely, I have spent a lot of my time on assisting the branding/creative development process, searching for potential contracts that ESI can bid on, and organizing various sales activities/presentations. Since starting as a sales/marketing intern, I have also tacked on costing duties for supply chain to gain experience in the supply chain department. Along with my regular day to day tasks, I have also gotten the opportunity to participate in several out of the office activities with the full-time staff. Last fall I was able to tag along to the APWA Snow and Ice Show in Loveland, CO, where I was able to experience my first trade show. Earlier in August I was able to join the Rocky Mountain sales team and participate in the APWA Chapter Golf Tournament. I have also gotten the opportunity to tour two different ESI plants! The first plant I toured is the local plant here in Evans; and being that my hometown is just an hour away from the location in Randolph, MN, I was also able to tour that plant last summer while I was back home. All these experiences have been super valuable for me to be able to get a taste of what a full-time position for ESI looks like, along with being able to meet more of the team.
Throughout my time with ESI I am incredibly thankful for how much I've been able to learn about the industry, how much I've expanded my skills professionally, and all the amazing people that I've met along the way. Now that I am nearing the end of completing my MBA degree, and have finished off my wrestling career, I am extremely happy to step into my first full-time roll with EnviroTech as a Jr. Cost Analyst. After gaining experience by incorporating supply chain work into the end of my internship, I feel comfortable and confident in accepting this position, and I am excited to see what the future has in store!