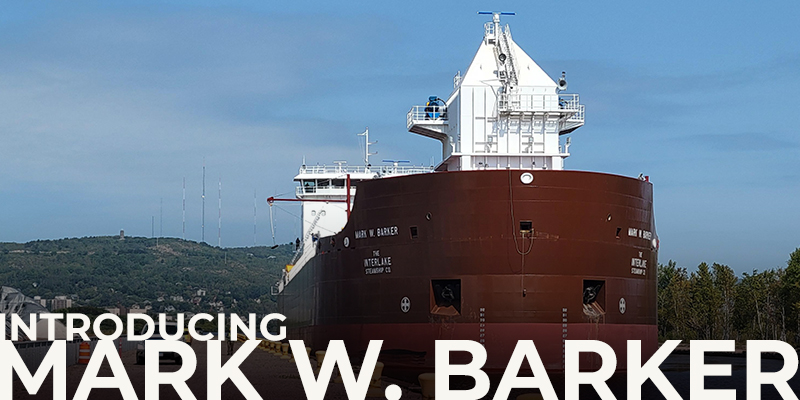 EnviroTech Services had the opportunity to receive the Mark W. Barker on Tuesday September 6th, 2022, at the Hallett Dock 8 Terminal in Superior, Wisconsin. The Mark W. Barker is a 639- foot ship built by The Interlake Steamship Company and is the first Great Lakes bulk carrier to be built in more than 35 years. The arrival of the Mark W. Barker was an exciting day as it was the ship's first trip on Lake Superior and its first delivery to the Twin Ports of Duluth/Superior. The Barker unloaded 23,000 tons of Cargill Road Salt.
The Barker was christened on September 1, 2022, in Cleveland, Ohio. This new vessel signifies a new era in Great Lakes shipping with enhanced capabilities such as high-efficiency propulsion, versatile cargo solutions, and is the first ship on the Great Lakes with engines that meet EPA Tier 4 emission standards. The Barker was built to meet the versatility of Great Lakes Terminals. To navigate cargo more effectively, the Barker has a bow positioned unloading boom and square-shaped flat bottom cargo hold instead of the traditional V-shaped angle bottom. This enables the ship to haul both traditional bulk commodities such as road salt and haul non-free flowing bulk material such as wind-turbine blades.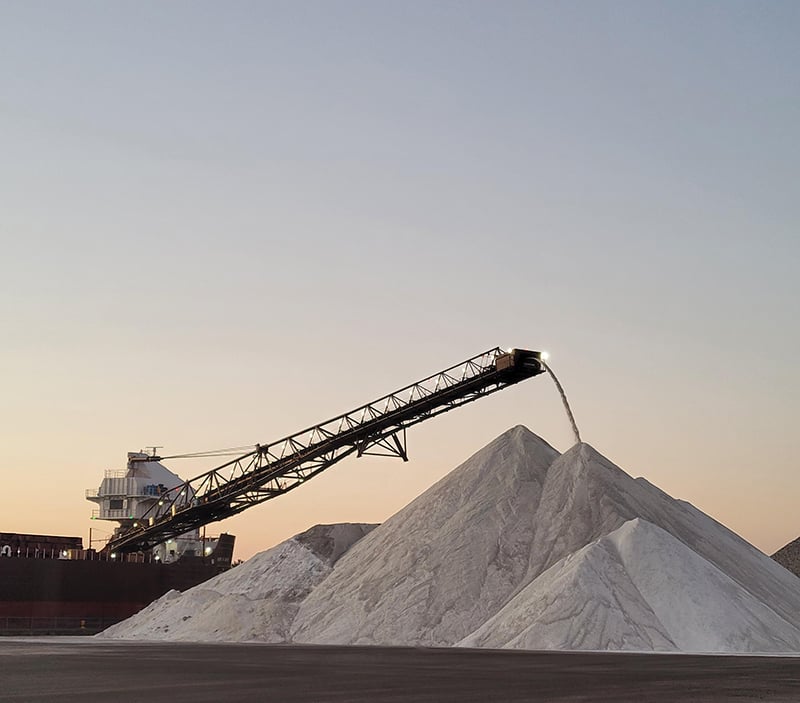 Unloading a vessel with the Barker's capabilities allows Hallett Dock 8 to optimize placement of cargo creating more effective dock operations.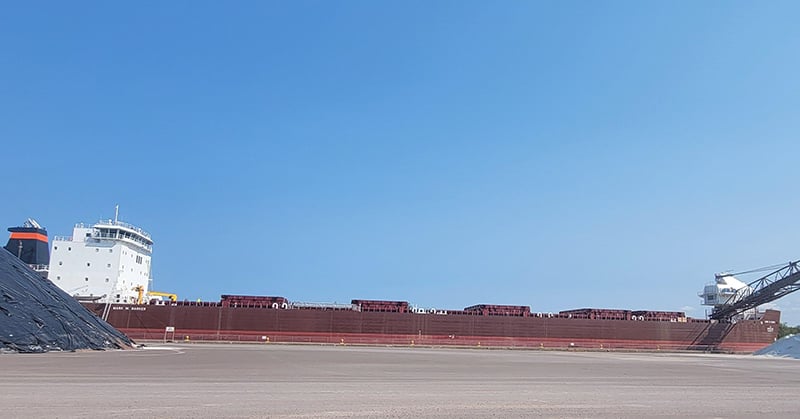 Hallett Dock 8 (HD8) is a bulk mineral Marine Transfer Terminal on Lake Superior, conveniently located on the Superior, Wisconsin side of the Twin Ports of Duluth and Superior. HD8 can unload or load barges, vessel, rail, and trucks via Lake Superior and the Twin Ports. EnviroTech Services, Inc acquired Hallett Dock 8 in December of 2019. ESI was excited to bring on the experienced staff of HD8 and their decades of experience. Some staff such as Julie, Kara, and Jeff have over 30 years of experience each which made the acquisition beneficial to both ESI and HD8. Being part of ESI, HD8 can leverage resources from ESI's Midwest inland terminals to create effective logistic solutions for their customers. Aside from taking advantage of the local terminals in Minnesota, they can also utilize logistical and administrative support from ESI's Shared Services office in Greeley, CO. HD8 is very excited to continue to grow and offer innovative solutions in Marine Terminal Operations for the Twin Ports with the support of ESI. Customers and partners of HD8 are appreciative of ESI's commitment to exceptional service and Operational Excellence which helps Hallett Dock 8 align with ESI's mission of "People Helping People Improve Their Environment".
The Mark W Barker arriving at Hallett Dock 8 was an important step in the future of Great Lakes Shipping. It signifies the collaboration and long-term commitment to corporate responsibility and adaption to the changing environment on the Great Lakes. EnviroTech Services is proud to be a partner with The Interlake Steamship Company as we look to the future of Marine Terminal operations and bulk mineral transfer opportunities on the Great Lakes.