Envirotech Services, Inc. is a company rooted in caring for our environment. This is never more evident than in the offering of our USDA Certified BioBased Product, Bio-Ballast®.
Bio-Ballast® and it's companion product, BallastSeal®, can be found in tires across the US and in Canada. EnviroTech Services, Inc. is providing the tire ballast industry an environmentally safe and effective solution for their ballasting issues. To see how EnviroTech Services, Inc. is improving the environment, it is important to understand the history and current standing of the tire ballast industry.
The tire ballast industry has a long and storied past of materials both good and bad. Some were used out of necessity and others out of convenience. These founding practices have allowed the tire ballast industry to evolve into what we know it as today.
Those who enjoy seeing an old "barn find" tractor headed for restoration, hate seeing a liquid seeping out of a corroded wheel. Although it was a necessity for safety and efficiency during its long hard life, it is still bothersome. The corrosive material is fine if it is inside of the tube but once it escapes, it starts to eat the tractor. Even during its working days, alternatives were sought because rims are not only expensive, but hard to find.
The next, less corrosive, alternative for the tire ballast industry was a collection of everyday products that were never designed or intended to be used as tire ballast. They range from impractical to lethal, and some of these products are still around today. They tend to be marked with a lethal warning label and the packaging can be misleading regarding freeze point protections, as is the case of RV antifreeze.
The first plant-based environmental product was a byproduct of questionable consistency and quality. The product could not be mixed with chlorides which proved to be a nightmare for the repair industry: after a few years in the tire the product was unrecognizable and hard to handle. It was originally accepted as the only port in the storm.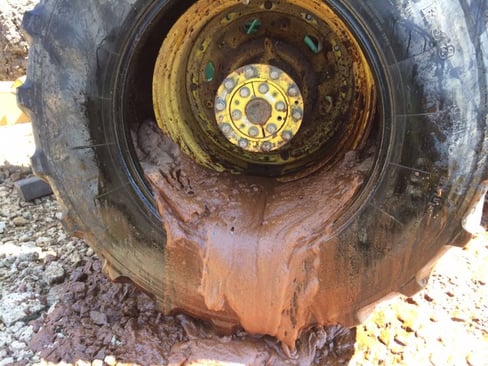 "This is why I use Bio-Ballast" - EnviroTech Services, Inc. Customer
As the tire ballast industry has evolved, it is evident there are more effective options, such as Bio-Ballast. Bio-Ballast may be found in heavy equipment for building highways, bridges, commercial properties, and residential construction sites. Additionally, Bio-Ballast is used in farm and light duty tractors across the North American continent.
This wide variety of equipment and locations have one thing in common: if a catastrophic tire failure occurs, there will be no environmental impact or clean up necessary if Bio-Ballast is released into the environment. No one wants to see a caustic or lethal material leaking into their soil, stream, storm sewer, drinking water or garden. At EnviroTech Services, Inc. we are proud to be "People Helping People Improve Their Environment".
Learn more about how EnviroTech Services, Inc. can assist you in your search for eco-conscious ballast products by visiting our website or speaking with a representative at 800-369-3878 .