Roger Knoph Turns Focus on CEO Role
Roger hands over the President role to the Vice President of Research and Quality, Steve Bytnar
Greeley, Colorado (September 24th, 2020) - After a year of planning and shaping the transition, Roger Knoph, CEO and President, made an announcement to the EnviroTech Services, Inc. company during their first virtual "Company Day" to hand over the President role to Steve Bytnar, Vice President of Research and Quality. Roger has stated that he is not ready to retire; rather, he feels the company will benefit from his contributions to the long-term vision and growth of the company. Transitioning to the President role, Steve will focus on the day-to-day operations of the company, ensuring set goals and expectations are met.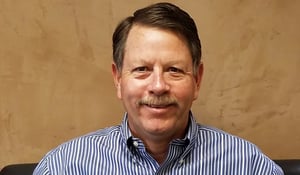 Since Roger incorporated EnviroTech Services in 1989, he has continued to develop the company, striving to be a leader in the industry. Manifesting the tag line "People Helping People Improve Their Environment", Roger has positioned himself in a way that has built a company culture to take care of its people. The word "people" includes the employees, customers, partners, and the community. During his opening presentation during the virtual Company Day, Roger announced his transition and reason behind his decision:
"At the end of September, I will be stepping aside as President and spending all my time as CEO. This will allow me to spend more time focused on the company, identifying opportunities in our industry to bring to EnviroTech, and promoting the company. I proudly hand the President reins over to Steve Bytnar, who will be taking over. I am very confident that he will do a great job. I am not retiring; I am not going away. I am going to be focusing on what I used to spend a lot more time on: working on the company with our partners and bringing opportunities forward."
Steve Bytnar followed with his enthusiastic remarks saying, "It is truly my honor to lead such a great company, with an outstanding group of people." Emphasizing his focus on the company tagline, he has promised to keep his focus on the people.
Founded in 1989, EnviroTech Services, Inc. has a rich history of developing superior road and surface solutions to manage all environments; both natural and man-made. We are proud to lead the industry in delivering innovative soil stabilization products, erosion and dust control, as well as anti-icing and deicing solutions. Today's top leaders in public works, property management, industrial, mining, and oil & gas depend on EnviroTech for surface solutions that are highly effective and environmentally sustainable, while also being cost conscious.