Whether you operate a landfill, mine, or farm, you know that dust control is an ongoing problem that needs a better (and more cost-effective) solution than just water – especially during the drought conditions affecting many parts of the country.
EnviroTech Services, Inc. has a suite of dust control products and dust control experts that can help you determine which solution is best for your unique site. Here are three dust control products to compare that will get the job done while saving water – plus time and money in man hours and equipment.
BioPreferred® X-Hesion Pro®
This ultra-low chloride, humectant formula uses organic polymers to absorb and release water as needed in order to keep your road base stable with a surface that is somewhat flexible, weather resistant, durable, and dust free. It forms a bond with even the finest particles, adding weight because of its humectant properties, and reducing dust to a PM10 standard. Because of its ultra-low chloride content, X-Hesion Pro® is a good choice for plant nurseries, orchards, and other agricultural businesses.
BaseBind®
This dust controlling soil stabilizer can be mixed into road base or applied topically to existing roads. It replicates the beneficial properties of lignosulfonate while avoiding some of the difficulties, such as its viscosity and dwindling supply. If the soil moisture levels are high enough, it doesn't require pre-wetting.
In semi-arid areas with average humidity of between 40% to 60%, BaseBind® is very effective as a road stabilizer. A single pass over a well-compacted road surface is recommended for topical applications. In areas with less than 40% average humidity, water will need to be used in order to activate the product. It acts as an excellent surface stabilizer.
durablend™
It often takes just half as much durablend™ as other magnesium chloride treatments to provide the same level of efficacy. It also bonds with the aggregate, which lessons the migration of the chloride, thereby enhancing friction on wet roads and improving safety. Application of durablend™ generally requires the same surface preparation as other chloride products and it is applied with the usual spraying system. However, a truck load of durablend™ will often cover twice as much surface area as standard chloride products and it doesn't require blade mixing. Road base loss is reduced through continual use of the product.
As always, the application of any of these products is most successful with proper surface preparation of the road, although such preparation needn't be costly or time-consuming. The road has to be reshaped before application or ruts, washboards, and other road issues will still be present afterwards. Compaction is also recommended when using any of these products.
Discuss Your Site with a Dust Control Expert!
Contact us or request a free site evaluation and one of our specialists will help determine which of these products will best suit your needs and then will create a program tailored specifically for your site.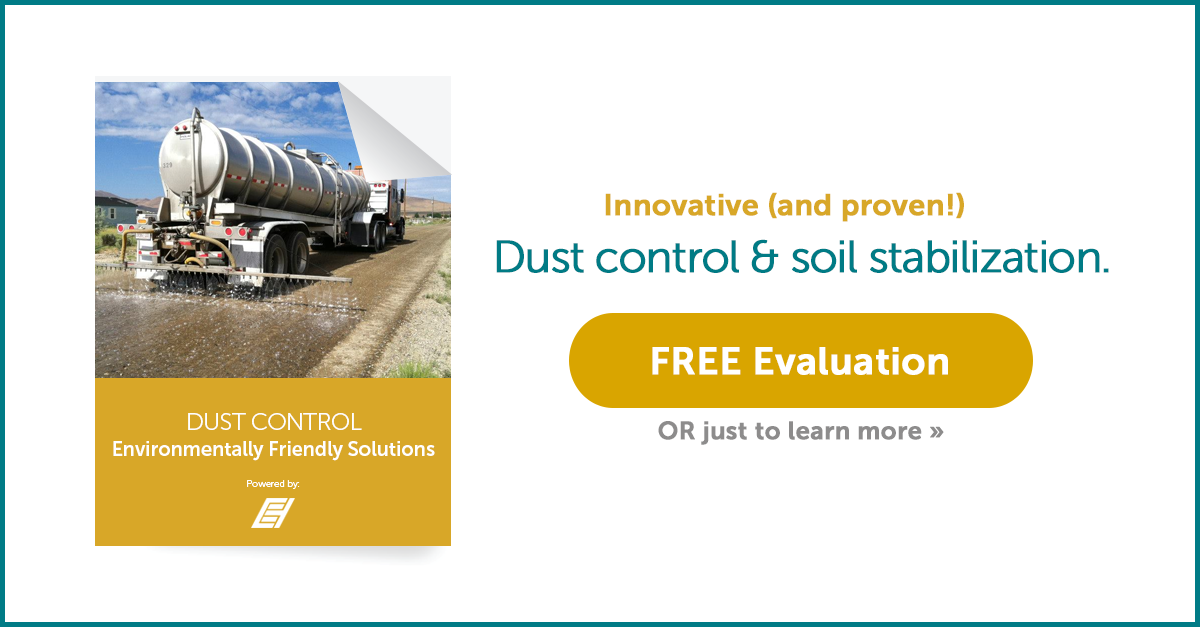 EnviroTech Services, Inc., a Greeley, Colorado based Small Business manufacturer of problem solving products for the de-icing and dust control markets. Over 26 years of "People Helping People Help the Environment".