On February 18, 2021, the Spokane area woke up to the coldest temperature of the year, 12°F (Krem 2 News). By the afternoon residents, welcomed the first of two storm systems that blanketed the region with 2-3" of snow. Overnight temperatures remained in the low twenties.
Around 7:30 AM the following day on the air temperature was around 29°F and the road surface temperature was 26.2°F (measured with a Klein Tools Infrared Thermometer)*. The Spokane County plow trucks were ready to start clearing the roads.
Clearing the roadways of snow and ice under these conditions was no challenge for the Spokane County Department of Transportation and Public Works Agency because they had Ice Slicer® on their side.
A Spokane County plow driver working on Columbia Drive, located between Argonne and Thierman road, removed majority of the snow with his truck, leaving only a thin layer of snowpack and ice. Then the driver applied Ice Slicer and within twenty minutes, the bond of the remaining snow and ice began to break from the roadway.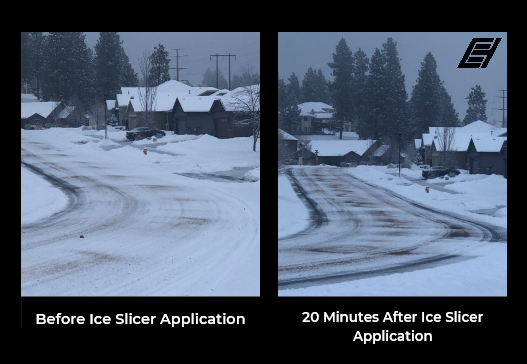 Within fifty-five minutes, the road surface began to reach a bare and wet surface. At this time, the air temperature was an estimated 30°F, the road temperature where Ice Slicer was applied was an estimated 29.5°F, and the road temperature of the side street (with no Ice Slicer) was 27.7°F.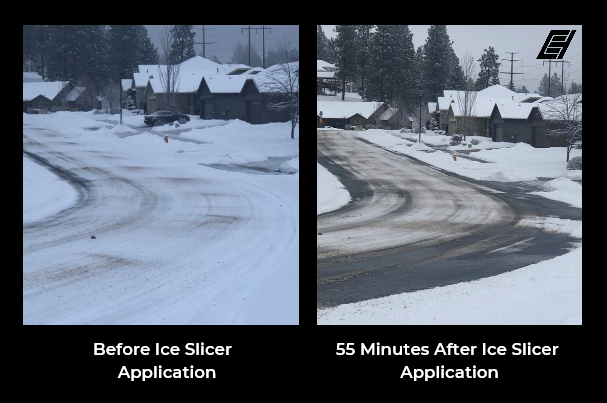 Is it possible that Ice Slicer increased the road temperature by breaking the snow and ice?
As demonstrated by Spokane County's Ice Slicer story, this product can work faster and last longer in lower temperatures than alternative products. Ice Slicer products can melt ice and snow to 5°F which is up to 17° lower than regular road salt. The 'reddish' color of Ice Slicer accelerates ice melt by absorbing up to 50% or more of the sun's radiant energy than white deicing products. Additionally, the color can serve as a signal to motorist that roads have been treated.
EnviroTech Services, Inc. offers various products and specialized treatment plans to help maximize the efficiency of your deicing and anti-icing operation. To learn how we can assist you, please visit our website or speak with a representative at 800-369-3878.
*The Klein Tools Infrared Thermometer was calibrated for asphalt pavement and left outside to acclimate to the temperature so readings would be accurate.
Similar Reads: